• illustration • print • wood
Christmas Vouchers .... are going to Print.
We do love a stocking filler & keepsake gifts. Why not Commission a portrait or buy an Experience for someone this Christmas. Workshops ranging from creating your own stamp by doing Linocut for wrapping to cards or learning the skills of Pyrography & burning your own cheeseboard
Printing your image on a mug or T-shirt... Fun activisties with a nibble & tea or a bubbly.
Ranging from £30 per person inc. Materials
e-mail : millimcgregor@mac.com
---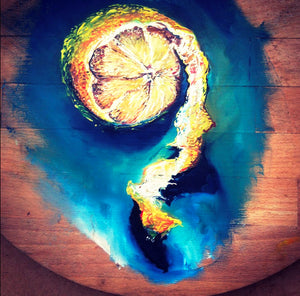 I do Love a Lemon drizzle cake, Lemonade (a few favourites recipes), or a G&T or two. Lemons are the most versatile Citrus fruit. They even clean a wooden chopping board. I'm quite excited to be leading a Workshop in a few weeks where 3 couples will be designing their own cheese board. They will be sampling some local cheese & tidbits created by friends of Warren farm, paired with some fine & exclusive wines selected by Guy Harcourt-Wood (of Clarke Foyster Wines). 
---
Running through a city full of culture & history